Prayer Support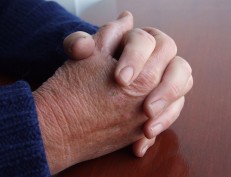 Lifting each other up in prayer is seen as a way by which we develop our relationship with God and with others. Individuals are encouraged to engage in prayer throughout their day. Formal venues within St. John include:
Prayer Request Pew Cards
Individuals may ask for public and/or private pastoral prayers each week during the worship service.
Knee Mail Prayer Chain
The Knee Mail Prayer Chain is a group of people at St. John that functions as a ministry within our church family performing the God-ordained task of offering intercessory prayers on behalf of others. The group takes in the prayer requests of others for the purpose of giving spiritual support and aid. Prayer requests are passed through email to members of the chain. Each member is responsible for checking for incoming requests and then faithfully praying for those requests exactly as they are given. Each member is also responsible for keeping prayer requests confidential. Members are also encouraged to offer prayer for and with anyone who is in need of it. Another way you can participate in this very important ministry of our church is by sending any prayer requests you have to the Knee Mail Prayer Chain. We have had great success in helping those in need of prayer feel the loving presence of God in a very real way.
Prayer Vigils
40 Hours Leading Up to Easter
On the National Day of Prayer, First Thursday in May
During Lent, individuals fill out prayer requests and place them on two crosses. Volunteers offer up the petitions during a specified time slot from Good Friday at noon to Easter morning at 6:00 a.m. A monitor is on duty at all times. On the National Day of Prayer, the church is a registered site and open to community members who wish to pray for the nation and its people.