National Day of Prayer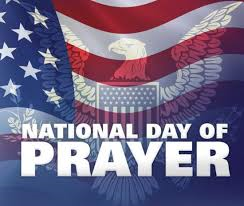 Thursday, May 2, 2019
Prayer Vigil 9:00 a.m. to 7:00 p.m.
St. John Lutheran Church is a registered site for this national observance. The public is invited to come into the church during the day to pray personal petitions and those for our nation and its people. Guests can also write their prayer requests and place them on wooden crosses so others will pray for them. The National Day of Prayer encourages citizens to lift up our government, emergency personnel, military, media, businesses, educational institutions, churches, and family units in prayer.
Prayer Service 7:00 p.m.
The day will culminate with the opportunity for corporate prayer. You are invited to join us as we go together to God in prayer. Our theme will be "Love One Another" based on John 13:34.
May God bless our nation and our time together!