K-9 Comfort Dog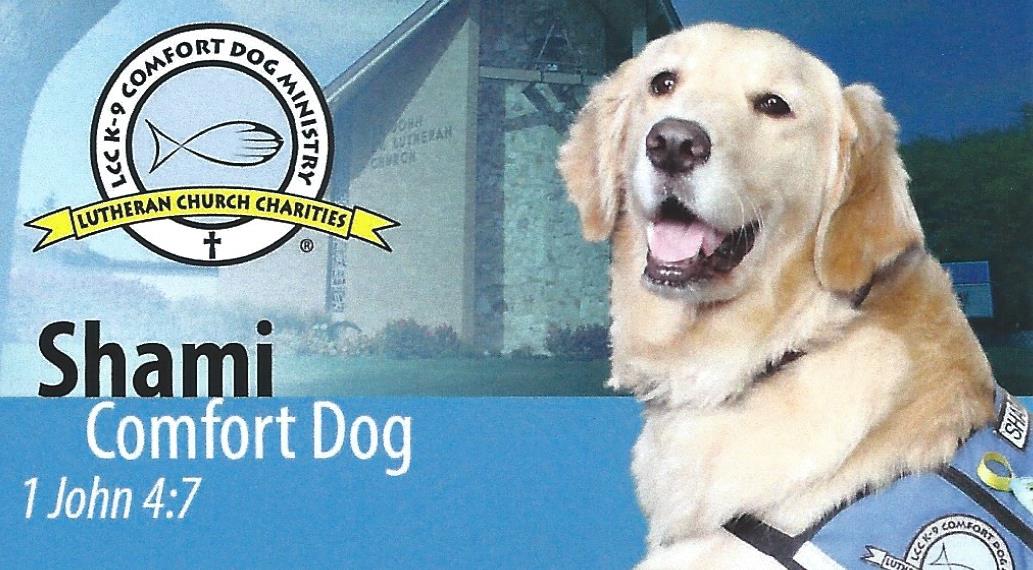 Since April of 2009, St. John has been blessed to have a Lutheran Church Charities (LCC) K-9 Comfort Dog named Shami, a golden retriever. She is part of a large network of LCC trained service dogs used to build bridges into local communities. She is a familiar sight not only at our church and preschool, but also in the neighborhood as she visits hospitals, residential care facilities, schools, businesses, and community events, such as Darienfest.
Her service also takes her to regional K-9 Comfort Dog events such as the annual North Pole Fantasy Flight at O'Hare Airport for terminally ill children and Freeze Day at Brookfield Zoo. Shami is regularly called upon to participate in LCC disaster response situations throughout the nation. She traveled to Newtown, CT after the shooting at Sandy Hook Elementary School, to Boston, MA after the marathon bombing, and to Washington, IL after a devastating tornado. Each time she brought a calming influence, allowing people to open their hearts and receive help for what was affecting them.
Shami has been featured in newspaper articles, on the cover of Neighbors of Darien Magazine, The Lutheran Woman's Quarterly, and on Good Morning America. She is cared for by a number of specially trained handlers at St. John.
To learn more about the K-9 Comfort Dog Ministry, go to www.k9comfort.org or view this informational video:
Visits by Shami can be arranged by contacting LCC at 866-455-6466 or clicking here to complete a request form.
Email Shami
Join Shami's Facebook Fan Page
www.facebook.com/shamicomfortdog