K-9 Comfort Dog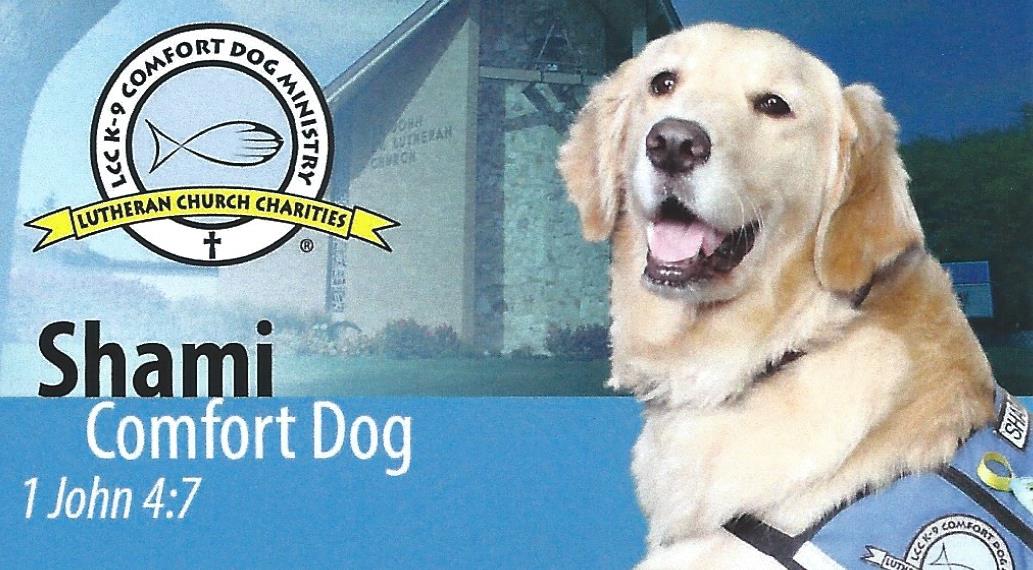 From April 2009 to October 2017, St. John was blessed to have a Lutheran Church Charities (LCC) K-9 Comfort Dog named Shami, a golden retriever. She was part of a large network of LCC trained service dogs used to build bridges into local communities. She was a familiar sight not only at our church and preschool, but also in the neighborhood as she visited hospitals, residential care facilities, libraries, schools, funeral homes, businesses, and community events, such as Darienfest.
Her service took her to regional K-9 Comfort Dog events such as the annual North Pole Fantasy Flight at O'Hare Airport for terminally ill children and Freeze Day at Brookfield Zoo. Shami was regularly called upon to participate in LCC disaster response situations throughout the nation. She traveled to Newtown, CT after the shooting at Sandy Hook Elementary School, to Boston, MA after the marathon bombing, and to Washington, IL after a devastating tornado. Each time she brought a calming influence, allowing people to open their hearts and receive help for what was affecting them.
Shami was featured in newspaper articles, on the cover of Neighbors of Darien Magazine, The Lutheran Woman's Quarterly, and Good Morning America, a national television show. She was cared for by a number of specially trained handlers at St. John.
Even after Shami was diagnosed with a terminal illness, she continued sharing the comfort, hope, and peace found in our loving Lord Jesus for over a year. Right unto the end, Shami was seeking to comfort those around her. Shami would wag a tail of welcome to each who came to her bedside; she would reach out to offer her golden coat to be petted. The time for her final rest was met with a singing of the doxology. "Praise God from whom all blessings flow; Praise Him, all creatures here below; Praise Him above, ye heavenly host: Praise Father, Son and Holy Ghost. Amen."
To learn more about the K-9 Comfort Dog Ministry, go to www.k9comfort.org or view this informational video:
Visits by LCC K-9 Comfort Dogs can be arranged by contacting LCC at 866-455-6466 or clicking here to complete a request form.